Peter MacQueen & The Hebridean Baker
Tuesday 21st November
Venue
Topping & Company Booksellers of St Andrews, 7 Greyfriars Garden, St Andrews, Fife KY16 9HG
Doors Open
7.20pm
Start Time
8pm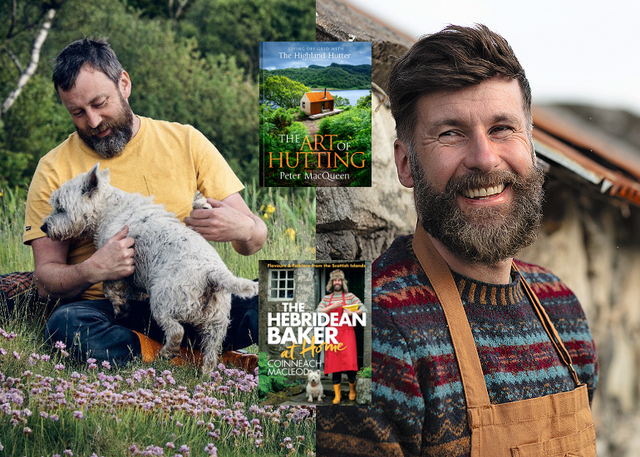 Peter MacQueen and The Hebridean Baker
In a special joint event we will be joined by two stars of the Scottish Highland scene, BBC Alba presenter Peter MacQueen and The Hebridean Baker himself (otherwise known as Coinneach MacLeod)! In discussing their new books, The Art of Hutting and The Hebridean Baker at Home, we are sure to enjoy an evening celebrating all things Highlands.

The Art of Hutting

'Is farsainn beul a' bhothain'
There is always a welcome at the hut

Are you ready for the good life? Huts, whether in the country, by the sea or near to home, are a glimpse into nature, letting us slow down and enjoy the details of life's little things and create time for self-care, health and a sustainable way of living.

Whether you will design alone, build as a group, or just want to find the perfect spot for a restful interlude, Peter MacQueen shares his knowledge and insight on all things hutting - from foraging and places to stay, to fire making and solar panels - alongside some seasoned hutters who share their tales of the joys and challenges.

Full of tips, stories and recipes, The Art of Hutting will teach you how to create the ultimate sense of wellbeing and community, take the sting out of nettle soup and even bake the Hebridean way!

The Hebridean Baker at Home

'In my kitchen, flavours become stories, bakes become family favourites and recipes are shared with friends from across the islands. Join me where the rolling hills of the Hebrides meet the rolling pins of my kitchen! For this book, I travelled from Islay, via Barra, Uist, Berneray and Harris before arriving home to Lewis. I've shared recipes and stories that have been handed down through the generations, bakes that celebrate the flavours of Scotland and simple dishes that you can whip up from your store cupboard ingredients.'

The Hebridean Baker at Home is filled with comforting cakes and bakes from his Double Dram Cake to Marmalade Shortbread, Fern Cake to Ecclefechan Tarts. Alongside delicious, hearty savoury dishes, including Leek Bread & Butter Pudding and Salmon Wellington, which are served up with a chapter full of Celtic recipes and signature Christmas bakes.

Fasten your apron, switch the oven on, and prepare to embark on an adventure that will transport you to the heart of the Hebrides from your very own kitchen. Welcome to my home. Welcome to my kitchen.