Gavin Francis
Thursday 31st August
Venue
Ukrainian Community Centre, 14 Royal Terrace, EH7 5AB
Doors Open
7.10pm
Start Time
7.30pm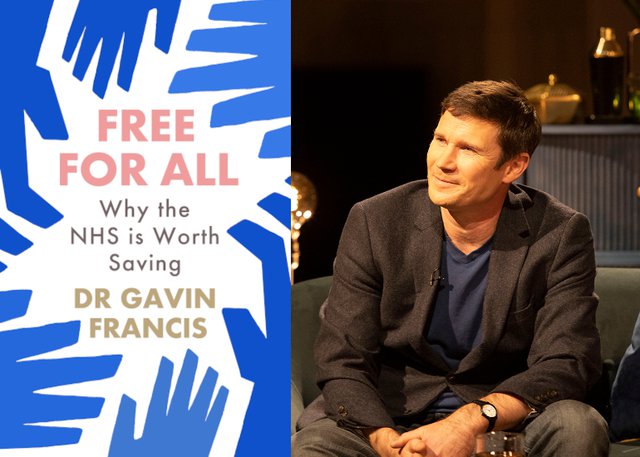 N.B. This event is now taking place at the Ukrainian Community Centre (14 Royal Terrace, EH7 5AB). All other details remain unchanged.
Bookseller favourite, Gavin Francis, returns to the bookshop this August with Free For All: Why the NHS is Worth Saving. Free For All is both descriptive and evaluative in scope: showing us the immense pressures which the NHS is under and why we should fight to relieve it of these pressures.
About Free for All
Gavin argues that since its birth in 1948, the powers that be have chipped away at the NHS. Now, Britain's best-loved institution is under greater threat than ever, besieged by a deadly combination of underfunding, understaffing and the predatory private sector. In the wake of the pandemic, we have come to accept a 'new normal' of permanent crisis and years-long waiting lists.
But, as Gavin Francis reveals in this short, vital book- it doesn't have to be this way, and until recently, it wasn't. Drawing on the history of the NHS as well as his own experience as a GP, he introduces us to the inner workings of an institution that has never been perfect but which transformed the lives and health of millions, for free - and which has never been more important. For those who believe in the future of the NHS and its founding principles, this is essential reading from the bestselling author of Recovery and Intensive Care.
About Gavin Francis
Gavin Francis has worked across four continents as a surgeon, emergency physician, medical officer with the British Antarctic Survey and latterly as a GP; he has described the pandemic response of 2020 as the most intense period of his twenty-year career in medicine. He's the author of the Sunday Times bestseller Adventures in Human Being, Shapeshifters, and Intensive Care. He also writes for the Guardian, The Times, the London Review of Books and Granta.