Topping & Company Booksellers of Bath
Our New Home on York Street
Open 8.30am - 9pm every day, including Sundays
After 14 very happy years at our familiar spot on the Paragon, we are delighted to have moved to the magnificent Georgian building formerly known as the Friends Meeting House. This superb location - opposite the Bath Abbey on York Street - places the bookshop right in the centre of Bath.
Our new bookshop has a gallery and multiple floors, lined with handcrafted bookcases and our signature rolling library ladders. We offer a huge selection of fiction, children's books, cookery writing, history and much more. With this new and larger space we are able to host many of the biggest names in the literary world in the bookshop itself - and of course there are plenty of lovely spaces for you to sit and enjoy a complimentary pot of tea and coffee too!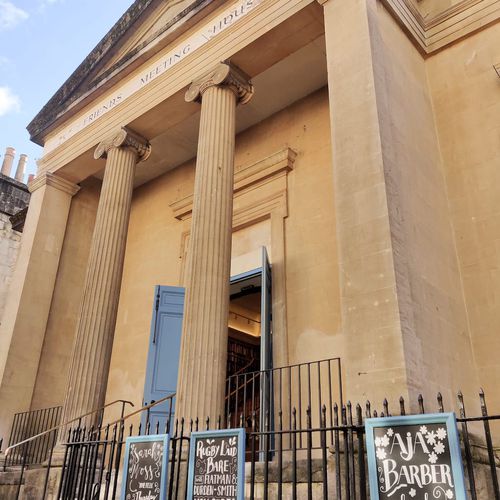 Floor guide
Gallery: Art, Crafts, Photography, Fashion, Gardening
Main Hall: Fiction, Science-Fiction & Fantasy, Crime Fiction, Graphic Novels, Young Adult, Bath History, Biography, Special & Collectible Editions
Lower Hall: Cookery, Travel, Poetry, Politics, History, Myths, Science, Psychology, Religion, Philosophy, Gender Studies, Sports, Children's
Events
We love to host events with some of the biggest names in the literary world. From novelists to cookery demonstrations, memoirs to poetry readings, we offer the chance to hear from your favourite authors.
View Our Upcoming Events
About the building
Designed in 1817 by William Wilkins, architect of The National Gallery, for use as a Masonic Hall, it was an assembly room and non-conformist chapel during the 1830s and has since been in the hands of the Religious Society of Friends. It is a listed building of significant architectural heritage, and one of the few remaining examples of the Greek revival style in Bath.